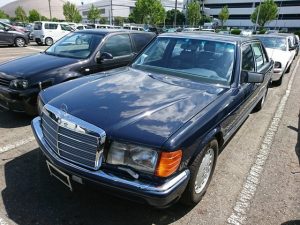 This 1990 Mercedes-Benz 560SEL is a low mileage example in rare form as it displays the
beautiful Midnight Blue (904U) paint paired with an inviting blue leather interior (262). Under the
hood of this gorgeously colored executive car sits a ROW/European-Spec M117.968 engine,
which was solely available to their market. The exclusivity of this engine, which produces nearly
sixty more horsepower than the engines received in the States, makes it an attractive
alternative to your everyday USDM Mercedes as more fun to drive and unique on any event
grounds. However, improved power output is not the only advantage this stately, full-sized,
sedan boasts to make it a desirable addition to any collection or unique option for daily
transportation.
American legislation required that automakers use 'safer' bumpers, headlights, and other
pieces during the 1980's. These bits of law prevented carmakers from offering not only more
powerful engines but more attractive visual choices as well. The sad result was that enthusiasts
in the States missed out on cars equipped like this Mercedes. The subtle differences in exterior
components that were barred by our transportation laws have also proven to age with more
grace.
This European market 560SEL sports the glass single-piece headlights that are more durable
and retain their beautiful clarity substantially better than the US plastic two-piece housings
required on all models built for this market. Understated, but critical, differences make this
560SEL the collector's choice. From the engine, which is either a 279hp or 299hp version
(depending on the exhaust headers), to the slim bumpers, and the more attractive headlights,
this ROW/Euro-Spec Mercedes is what the high-class gearhead pined for in the '80's. These
sleek changes tell the discerning enthusiast that this Mercedes is not its restrained American
cousin thanks to its heartier engine power output and more intentional look.
This Mercedes-Benz 560SEL has yet to land from its journey over the ocean. Upon arrival, the
Benz will receive a full inspection, undergo any service, and finally, an extensive detailing. Our
estimated asking price is between $25-35k. The exact figure will be disclosed after the final
assessments of the car have been made once it reaches our shop.
Included here are preliminary pictures of the car. When the car is at our facility, we will provide
more thorough, high-resolution, and detailed pictures.